For our services or query call us on +91 9806161974
Invisible Balcony Grill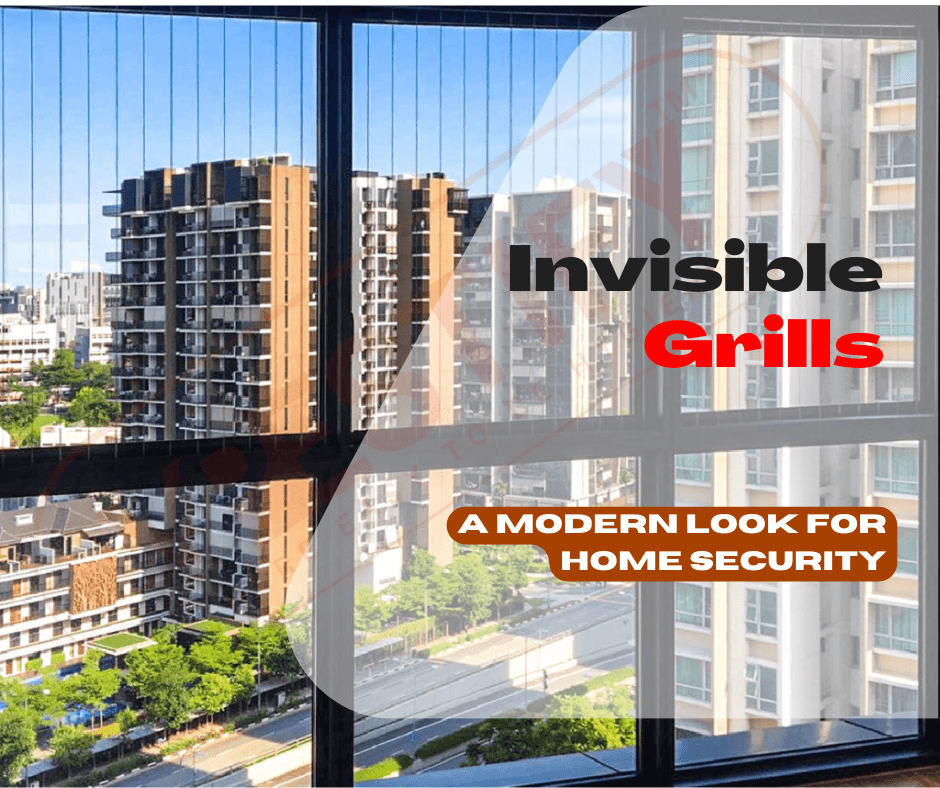 Balcony Invisible Safety Grills: A modern look for Balcony, Window and Stairs on home security
Invisible Grills, also known as clear or Transparent Grills, are innovative safety barriers made of high-quality materials such as stainless steel cables or tempered glass panels. These grills are designed to be barely noticeable, ensuring uninterrupted panoramic views from your balcony while offering robust protection against accidental falls.
So if you are residing in
Gurgaon, Noida, Delhi-NCR, Ghaziabad, and Faridabad
and looking to enhance the safety and aesthetics of your balcony, window, and staircase without compromising the view. Look no further than invisible grille! These innovative and modern invisible grills near me offer a seamless blend of security to your family and children, offer
bird and pigeon control
and style, allowing you to enjoy an unobstructed view while keeping your loved ones safe.
We, Vpestify Services, provide majorly SS Invisible Grills Installation Services, Balcony Invisible Safety Grille Installation Services, Advance Safety Grills Installation Services for Commercial and Residential buildings like Home, Apartment, Bunglow, Villas, Hotel, Hospitals, School and other premises in all over Delhi-NCR, Noida and Gurgaon.
Benefits of Installation of Invisible Grills
Enhanced Safety
It provides a strong and secure barrier, preventing accidents and ensuring the safety of children and pets on your balcony.
Unobstructed Views
Unlike traditional grills, this offers a clear line of sight, allowing you to enjoy breathtaking views without any visual hindrance.
Low Maintenance
If discussing the looks, it requires low maintenance. They are easy to clean and don't require frequent painting or rust treatment. They're resistant to stains and don't attract dust.
Versatile Application
These grills can be installed in various settings, including balconies, terraces, and even windows, providing safety without compromising on aesthetics.
Security
Invisible grille provide a high level of security to humans, especially kids, without affecting the appearance of your surroundings. Also, you don't have any danger of getting infected with tetanus because of its stainless steel finish.
Invisible Grilles v/s Iron Grille Cost
It's important to note that the overall cost of both types of grills will depend on the size of the area to be covered, the complexity of installation, and any additional features or security measures required. It is advisable to obtain quotes from invisible grill installation service provider or professional to get the best price and make an informed decision based on your specific budget and requirements.
Primary Features of Invisible Grills
High Strength Materials
We suggest using invisible grille made of stainless Steel for our customers. These are crafted from durable materials such as stainless steel cables or toughened glass, ensuring long-lasting performance.
Customizable Design
This offers a range of design options to suit your aesthetic preferences. Stainless steel cable grille provide a sleek and contemporary look, while glass grills create a modern and elegant appearance. You can choose between different thicknesses, finishes, and patterns to complement the overall style of your balcony and home. They can be tailor-made to fit the dimensions and shape of your balcony, ensuring a perfect fit and optimal safety.
Non-Intrusive Installation
These are installed using concealed fixtures, minimizing the visual impact and preserving the beauty of your balcony.
Easy-To-Use Locking Mechanism
These grills come with user-friendly locking systems that allow for quick and convenient access to your balcony when needed.
Weather Resistance
These are designed to withstand harsh weather conditions, including strong winds, rain, and UV exposure.
Safety features
To verify the protection of your surroundings from getting contaminated, using invisible grills is the intelligent option. It will save you and your kids from getting slipped, and due to its rust-free gesture, it will not harm you.
Elegant and Appealing
Invisible grills are available in transparent and grey colors, making your surroundings look elegant and appealing.
Types of Invisible Grills
Openable Invisible Grills
It is convenient for cleaning. Usually, they are unlocked. There are three types of open-able invisible grille:
Bifold
Casement
Sliding
Fixed Invisible Grills
Fixed invisible grills got set with the walls. Solid concrete walls are needed to install the invisible grille.
Invisible Grills Available for Different Purposes
These are available for different purposes. With their most fascinating looks and features, they are always used as the staircase railing, swimming pool railings, fences, and featured walls. Well, many installed them in their windows.
Now, talking about the sizes then, we have invisible grills available in 2 mm, 2.5 mm, and 3 mm.
Invisible Grills Installation Process
Installing invisible grills typically involves the following steps:
Initial Consultation:Our expert technicians will visit your property to assess the balcony's dimensions, design, and specific requirements.
Customization and Fabrication: Based on the consultation, it will be customized and fabricated to fit your balcony perfectly.
Fixtures and Installation: It will be installed using concealed fixtures that ensure a secure and aesthetically pleasing attachment to your balcony.
Final Inspection:
Once the installation is complete, a thorough inspection will be conducted to ensure that the grills meet the highest safety standards.
So, as described above, the installation process of these invisible grills is easy. You may contact us for affordable services.
Accessories Used While Installation of Invisible Grills
We are highlighting the accessories used during the Installation process-
Alluminium Track with powder coating
Different sizes of stiffners: 2mm stiffner, 2.5 mm stiffner, 3mm stiffner
Ferrule (Alluminium)
Nylon coating 316 stainless steel wire rope
Anchor
Screw+Plug
Invisible Grill v/s Traditional Grill v/s Bird or Pigeon Netting
Compared with traditional grills, These are a modern and stylish alternative. They offer safety, security, low maintenance, and aesthetics without compromising the view or the aesthetic value of a building or a home. At the same time, bird or pigeon netting protects your house from intruders and maintains hygiene in your surroundings, but it kills all the fancy of your surroundings.
Their durability and price make them a worthwhile investment. If you want to upgrade your balcony or patio's biological safety and aesthetics, this is an excellent choice. If you think of installing
bird netting for balcony
or patios, you must keep investing money because those nets' materials are polymers and plastics.
Unlike traditional grills, invisible grills don't have gaps or spaces that could slip through. Well, the bird netting also only has a few holes, but still, it can get torn or rugged due to the effect of rain and sunlight or storms.
Our Service Location
Vpestify
is a Delhi-based invisible grill installation service provider for balcony, window and stairs with a nationwide team of expert installers and technicians. We provide invisible grille installation services in Gurgaon, Noida, Delhi and Delhi-NCR. To work safely in this respected field, our team has relevant perusal and holds certification for professionals in the respective field. They are smart enough to tackle the issue with simple steps.
Hence, we cover all the locations near Delhi, especially Delhi NCR, Noida, and Haryana. Our services network is spread from Gurgaon to Noida and Ghaziabad to Faridabad.
FAQ's
Question:- Should I install Invisible Grills?
Answer:- The primary concerns are safety, security, and making your house attractive. And invisible gives your home a beautiful look, diminishing the possibility of a burglar's attack.
Question:- Are invisible Grills safe for kids?
Answer:- Because of its rust-free specialty, you will gain long-term security with the invisible grills. It will save you, your kid, and your pets because of the high-quality materials used in its manufacture. Also, these grills are suitable for all kinds of weather that don't make them corrode.
Question:- Will Invisible Grills Rust?
Answer:- Contains a tensile strength of 400 kgs and above, so it carries weight and prevents you from slipping. Also, it is made of 316 (ss) marine-grade stainless steel, so it is rust-free.
Question:- How do you clean windows with Invisible Grills?
Answer:- A complete kit is available in the market in the online and offline shops for the proper caring cleaning of invisible grills. Also, you have the facilities to install the open-able invisible grills.
For our services or query call us on +91 9806161974
Service
We offer services of installation of invisible grill for balcony, invisible safety grill installation, invisible grill installation for window, Stair invisible grill installation at best and affordable price.
For our services or query call us on +91 9806161974
ARE YOU HAVING TROUBLE WITH PESTS?
Or schedule a call with an vPestfy today and get a FREE inspection for:
Contact us today, and get reply quickly!